Flower Communion
Sunday, June 4, 2023 from 11:00 AM to 12:00 PM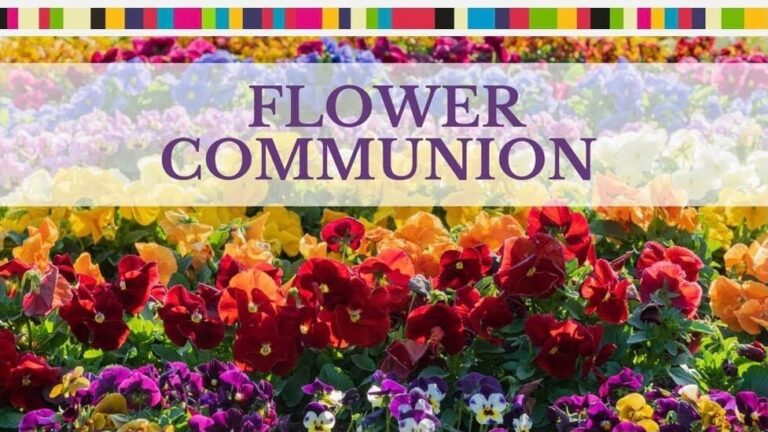 Dear ASWUU Family and Friends,
Flower Communion is a service common in Unitarian Universalism. It is usually held before summer, when some congregations recess from holding services. Originally created in 1923 by Unitarian minister Norbert Capek of Prague, Czechoslovakia, the Flower Ceremony was introduced to the United States by Rev. Maya Capek, Norbert's widow. In this ceremony, everyone in the congregation contributes flowers to a central location, and later the flowers are distributed among the participants.
Please bring a flower to add to the vase for the service.
Please join us this Sunday.  There will be a potluck after the service. Please bring a dish to share. The service will be available on Facebook Live for those who prefer not to gather in person. Go to the ASWUU Facebook page and click the Live link. The service will begin at 11am.
Also, after the service,  we've got a truly special event planned here at All Souls Waccamaw UU. Join us on Sunday, June 4 for an afternoon of cacao + sound immersion featuring special guest Snow Wolf!  Snow Wolf will be taking you on a sound journey with the use of Native American flutes, crystal sound healing bowls, gongs, tingshas & drums. The combination of cacao + sound healing will purify your aura & allow calming and healing energy to enter your body. You will leave the event feeling a sense of renewal, openness, awareness & stress-relief. Please bring Yoga mats, blankets and pillows for floor relaxation. Chairs will be provided for those who prefer to sit.  Tickets are $45 per person.
Event Location
All Souls Waccamaw Universalist Unitarian Congregation • 7185 Hwy 707 • Myrtle Beach,, SC 29588 • US
Contact Information
Contact: Carli Harlow
Phone: 8434658532
E-mail: